342SF Small Meeting Rooms
The six 342-square-foot Meeting Rooms are situated across three levels in the Convention Center.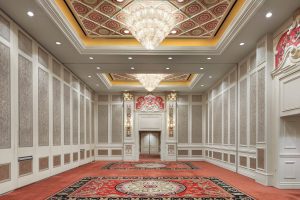 342SF Meeting Room Stats
Space Type
Meeting Room
Square Feet
342
Square Feet
342
people capacity per room layout
342SF Meeting Room Details
The 342SF Meeting Rooms may be combined with the 352SF Meeting Rooms to form larger spaces.

Locations
Bassano 2802 and 2806 - Convention Center Level 2

Toscana 3802 and 3806 - Convention Center Level 3

Zeno 4802 and 4806 - Convention Center Level 4

Sub-Divisions

Each 342SF Meeting Room is combinable with an adjacent 352-square-foot room to create a 694-square-foot room.

Specs

Ceiling Height -- 14'

Clearance -- 6' at door
View our Las Vegas meeting rooms page for more meeting spaces.