Need some extra room for your family visiting during the holidays? Looking to start a new tradition? Either way, The Venetian Resort can help you with both. Your Christmas in Las Vegas will be one to remember for years to come.
The Christmas spirit inspires our celebrity chefs in a big way. Every year they create special menus only available during the holidays. At The Venetian Resort there's no shortage of Christmas fun for families, couples, and friends in Las Vegas.
Treat yourself to a suite this holiday season with up to 25% off our Premier Suites when you stay 3 nights! Join Grazie Rewards for up to an extra 5% off. Plus, you'll receive 2 complimentary tickets for a holiday gondola ride, a festive floral arrangement and an exclusive discount on tickets to see This Is Christmas!
Book Now
BRERA osteria
'Tis the season for holiday-inspired eats. BRERA osteria has outdone themselves with four special additions to the menu. Start with the pear and endive salad with persimmon vinaigrette. Craving fish, chicken, or beef? Take your pick. Olive oil-poached North Sea cod with lobster sauce offers a great taste of the sea. The pan-seared half chicken with black truffle goat cheese pairs well with the crispy polenta and roasting jus. And finally, the black pepper-crusted prime rib is drool-worthy all on its own. These dishes can be enjoyed on Christmas Eve through the day after Christmas.
Learn More
Milos
At estiatorio Milos the perfect cup of holiday cheer awaits. With pomegranate, lemon, housemade rosemary syrup, and egg white, you taste Christmas with each sip. And the perfect pairing? The Royal Belgian Ossetra Caviar. The large pearls offer an amazing, balanced taste that goes great with plenty of small, savory pancakes called blinis. It's the luxurious way to get into the festive spirit of the season. You can enjoy both all December long.
Learn More
Matteo's
Matteo's Ristorante Italiano was inspired by the sea for the holidays. Enjoy eggplant, peppers, onion, and zucchini stuffed with lobster, shrimp, and langoustines. Pasta fans, get ready. You'll love fresh pasta with sea scallops, bone marrow, cauliflower, and saffron broth. Have you tried Dover sole? This buttery fish is paired with potato gratin, onion crema, Champagne sauce, and salmon caviar. These seasonal dishes are offered December 24-26. Savor them along with the rest of the menu when you book a reservation.
Learn More
Black Tap Craft Burgers & Beer
Fans of Black Tap Craft Burgers & Beer are getting the gift of Holiday spirit that keeps on giving: CrazyShakes. Always raising the bar on what a milkshake can be, Black Tap presents: The New Yorker. Indulge in a strawberry cheesecake shake with a vanilla-frosted rim covered in crushed graham crackers. It's topped with a slice of strawberry cheesecake, a jolly dollop of whipped cream, and a cherry. You can enjoy this festive shake all December long.
Save the date for Black Tap's Ugly Christmas Sweater Party with DJ Soxxie on December 19. Diners who wear their favorite Christmas sweater -- good or bad -- will receive a complimentary Winter Noggin' cocktail.
Learn More
Buddy V's Ristorante
On December 11, Buddy V's will host a Christmas brunch inspired by Buddy & Lisa's at home holiday gatherings. Featuring more than 60 traditional Italian American favorites from a collection of family recipes. Stations include antipasto, seafood, the carvery, the farm egg station and the kid's corner. A special holiday sweet table will feature additional favorites, including the Christmas spice cake, the buche de noel, gingerbread trifle, brulee cheesecake, hazelnut bars, zeppole, and of course cannoli.
Gathering family around the table comes easy with great food and wine. Buddy V's Ristorante is serving up a traditional slow-roasted prime rib. Wine is a staple at any Italian dinner. Add on an optional wine pairing or a bottle of prosecco to enjoy with your meal. Make sure to save room for dessert and dig into their gingerbread trifle. This Christmas menu is only available on December 24 and 25, so book your reservation today.
Learn More
Yardbird
At Yardbird's table, there is a strong connection between food and family. The recipes on this Christmas menu are the perfect comfort food you crave for the holidays. Plus, there are seafood options galore. Enjoy Skillet Seared Jumbo Sea Scallops with beurre blanc sauce. And for lovers of tradition, the Herb-crusted Prime Rib is served with whipped potatoes, country ham-wrapped asparagus, and horseradish crema. Explore these and more on the holiday menu to find yourself full of delicious cheer. Only available for supper on Christmas Eve and Christmas Day, call and reserve a table today.
Learn More
Mott 32
Looking for a new Christmas experience? Mott 32 is the place to go for modern Hong Kong cuisine. For your main entrée, enjoy geoduck. Pronounced "gooey duck," Mott 32 gives you a choice of two ways it can be prepared: sautéed or salt and pepper. Connoisseurs of the world's largest burrowing clam enjoy its sweet flavor. Toast to the holidays with the Duke of Suffolk cocktail, a tea-based take on an Irish coffee. Discover even more holiday specials on the menu. These exclusives will only be available from December 22-January 1.
Learn More
'Tis the season for festive cocktails, and the bartenders of The Cocktail Collective know their way around crafting delicious cocktails for the holiday season. Make sure to stop in and see what's on the menu at The Dorsey, Electra and Rosina with festive takes on classic cocktails featuring Tito's Handmade Vodka to keep your spirits bright. And a portion of the proceeds benefits HELP of Southern Nevada.
Learn More
The chefs of our world-class restaurants have so much fun creating their seasonal menus. Indulge is unique menu items like Tomahawk steak with bone marrow and herbs, chestnut-marscapone filled pasta, and so much more.

Learn More
15
Walking in a Winter Wonderland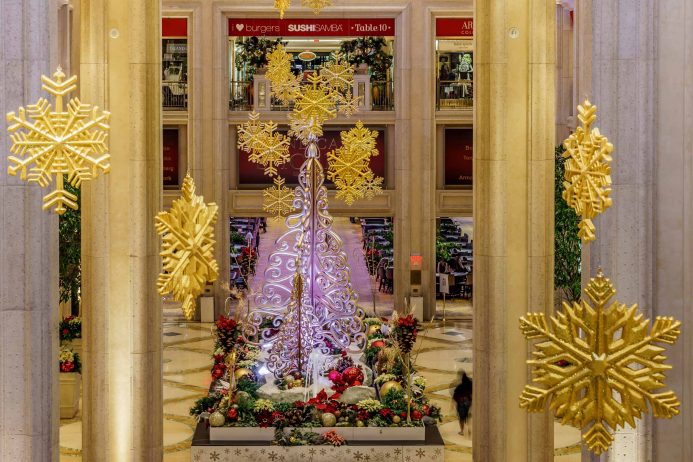 Need ideas for a holiday card? We've decked the halls of our Waterfall Atrium in The Palazzo tower. All the seasonal decor makes for great holiday photos to send to friends and family.
Give the gift of Club Level access with Prestige Club Lounge. From a private check-in desk to complimentary cocktails and personal touches, Prestige upgrades your experience to a luxurious level.
Learn More
Our Premier Suites offer additional space, which is great for families who love to travel. Connecting suites are available for groups that want to keep an eye and ear on little ones while having space for themselves.
Learn More
Missed some people on your shopping list? Well, you're in luck, our Grand Canal Shoppes offer a plethora of retailers. You'll find the perfect gifts for your loved ones in no time — and maybe something for yourself, too. This year, restaurants throughout The Venetian Resort have teamed up to create a digital cookbook of world-class dishes from renowned chefs and iconic restaurants to benefit Three Square Food Bank.
Learn More
Spend the most wonderful time of year in the largest suites on the Strip. Make sure to book direct to get the best rates.

Book Now
Our Concierge is the first stop to make before anything. Interested in a specific reservation for anywhere at the resort or in the city? Their resources and knowledge are worth their weight in gold and you'll reap all the rewards.
Contact Concierge