Need some extra room for your family visiting during the holidays? Looking to start a new tradition? Either way, The Venetian Resort can help you with both. Your Christmas in Las Vegas will be one to remember for years to come.
The Christmas spirit inspires our celebrity chefs in a big way. Every year they create special menus only available during the holidays. At The Venetian Resort there's no shortage of Christmas fun for families, couples, and friends in Las Vegas.
Sunday, Dec. 24 – Monday, Dec. 25 | 5–10 PM
The best way to celebrate the holidays is toasting the ones you love. At Thomas Keller's Bouchon Bistro, not only can you enjoy phenomenal French cuisine, but you can also sip delicious Champagne. Available by the glass or bottle, pair your bubbly with their seafood platter. The Grand Plateau features a lobster, oysters, shrimps, clams, and mussels. A pre fixe menu offers a variety of dishes to savor. Commemorating the holidays is all the sweeter with a meal at Bouchon.
Make A Reservation
A blend of bold Latin flavors, CHICA offers dishes Santa would gladly choose over cookies. Indulge in Black Truffles and Porcini Mushroom Tamale. The Short Rib Barbacoa will blow the stockings right off your mantle. The meat is braised in red chile for 72 hours for maximum flavor and tenderness. Sides? Only the best salsa borracha, grilled nopales, consommé, and housemade tortillas. Fans of chocolate and mint—save room for dessert. Treat yourself to chocolate sponge cake, white peppermint mousse, and chocolate shavings. It's the perfect sweet finish. These exclusive menu items are available for dinner, December 22 – 25. Book your reservation today.
Make A Reservation
At Yardbird, there is a strong connection between food and family. The menu is packed with a la carte options crafted just for the holiday. Start with Kentucky Ham-wrapped Dates and Maine Lobster Bisque. If you're craving more seafood, enjoy the Whole-roasted Branzino. And for lovers of tradition, the Herb-roasted Prime Rib can't be beat. Do you have your heart set on dessert? The Red Velvet Cake is everything holiday dreams are made of. The recipes on the Christmas menu serve as perfect comfort food for the holidays. Only available for dinner on Christmas Day, reserve a table today to get your fill of delicious cheer. Bonus: Yardbird is serving brunch December 23 – January 1, so get your cravings satisfied in the morning and the evening. Make a reservation today.
Make A Reservation
Give yourself the gift of a Christmas dinner with a Japanese twist. WAKUDA is serving an incredible family-style menu for the holiday. Begin with Chu Toro Butter Miso, a medium fatty tuna with kizami wasabi and crispy yuba. Feast on a host of meat and seafood for your main courses. From Branzino to Harumaki, and American Wagyu—your taste buds will be singing carols as you savor every bite. What about sushi? A special selection of sushi rolls will be prepared for your meal as well. To complete the experience, a Green Tea Miso Sundae will be served for dessert. This special menu is only available on Christmas night. Make sure to book your reservation in advance to enjoy this exclusive dinner.
Make A Reservation
The chefs of our world-class restaurants have so much fun creating their seasonal menus. Indulge is unique menu items like Tomahawk steak with bone marrow and herbs, chestnut-marscapone filled pasta, and so much more.

Learn More
06
Walking in a Winter Wonderland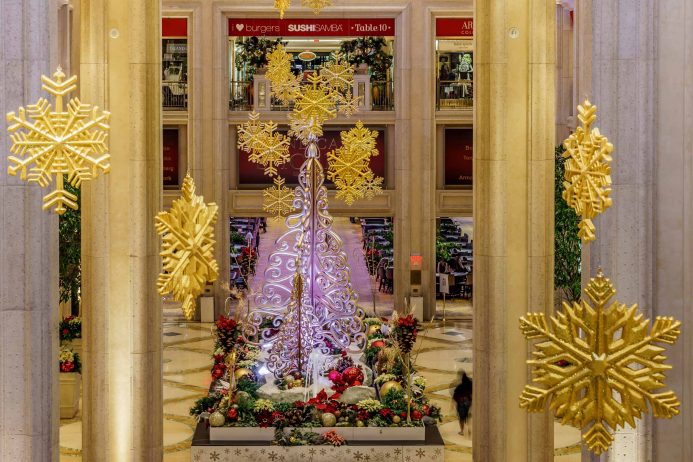 Need ideas for a holiday card? We've decked the halls of our Waterfall Atrium in The Palazzo tower. All the seasonal decor makes for great holiday photos to send to friends and family.
When you book Prestige Club Lounge, you receive VIP access to two lounges. One on the 23rd floor of The Palazzo tower and one on the 36th floor of The Venetian tower. You're greeted with a glass of Prosecco when you arrive for your private check-in. Spectacular views accompany your daily breakfast and nightly cocktails. Our chefs prepared special holiday cookies and drinks that will only be served December 22-25 during evening happy hour. Indulge in chocolaty and crunchy peppermint cookies. For sipping? Have your pick of a Mistletoe Mojito and a Christmas Cookies cocktail. Give yourself the gift of an upgrade.
Learn More
We're rolling out the red carpet for you with festive touches on our world-famous suites. Reserve our in-suite holiday package for a delightful change of pace this year. A decorated holiday tree is the sparkling centerpiece. And stockings stitched with your names offer you a warm welcome. Availability goes fast, so be sure to add this package to your suite reservations today.
Learn More
Our Premier Suites offer additional space, which is great for families who love to travel. Connecting suites are available for groups that want to keep an eye and ear on little ones while having space for themselves.
Learn More
Missed some people on your shopping list? Well, you're in luck, our Grand Canal Shoppes offer a plethora of retailers. You'll find the perfect gifts for your loved ones in no time — and maybe something for yourself, too. This year, restaurants throughout The Venetian Resort have teamed up to create a digital cookbook of world-class dishes from renowned chefs and iconic restaurants to benefit Three Square Food Bank.
Learn More
Spend the most wonderful time of year in the largest suites on the Strip. Make sure to book direct to get the best rates.

Book Now
Our Concierge is the first stop to make before anything. Interested in a specific reservation for anywhere at the resort or in the city? Their resources and knowledge are worth their weight in gold and you'll reap all the rewards.
Contact Concierge