Cleanliness in Action
Our Venetian Clean Commitment was created to reassure you that your health and safety are top of mind. Rest assured, our cleaning practices for hygiene and sanitization meet or exceed the requirements of the CDC, or state and local authorities.
Our Commitment
Our commitment to you? Cleanliness. The Venetian Resort is open, with safety protocols and plans in place to help reduce the transmission of COVID-19. We continue to operate under our Venetian Clean Commitment, which was designed to enhance safety and minimize risk for our visitors and Team Members. These guidelines continue to be adjusted based on current recommendations of health officials and local, state and national authorities.
Here are a few top-line updates:
CLEANING: Since the beginning of the COVID-19 pandemic, we have adjusted the frequency of routine cleaning in public spaces and heart-of-house back areas, and revised our cleaning protocols for guest suites, which meet or exceed all pertinent guidelines. Throughout the resort, hundreds of individual sanitization stations that include hand sanitizer or sanitizing wipes have been installed.

AIR QUALITY: To improve ambient air quality, we have adjusted our air conditioning systems to circulate up to 100 percent outside fresh air. This means we have reduced the amount of air that is recirculated. In addition, the frequency of air filter replacement and HVAC system cleaning has been increased. In specific areas, we have added additional MERV15 and HEPA hospital-grade filtration.  Guest suites feature air conditioning systems that are independent of one another, which means they do not recirculate air directly from suite to suite within the HVAC system. Each suite receives fresh outside air and has its own exhaust.
The Venetian Clean Commitment has been certified by Bureau Veritas, a nearly 200-year-old world leader in testing, inspection, and certification. Bureau Veritas has developed the Safe Guard™ Hygiene Excellence and Safety Label to support the operational activities for The Venetian as we continues to keep safety and hygiene at the forefront. The Cleveland Clinic serves as the Medical Advisor for Bureau Veritas' health, safety and sustainability programs, including Safe Guard.
TripAdvisor Traveler Rating:

Based on 32,334 traveler reviews
Read Reviews >>
Simply beautiful
As soon as you walk in the lobby the beautiful place captures your attention in every direction especially the ceilings. Rooms are huge, beds are huge and soft, bathrooms are spacious and clean. Can't wait to come back.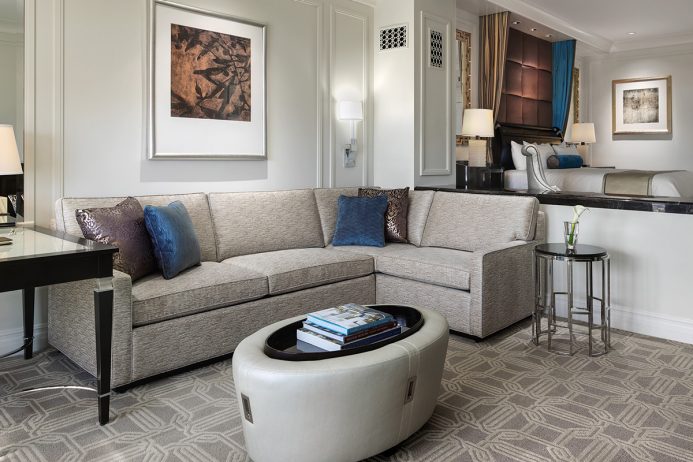 Guest Suites
Our already strict cleaning and disinfecting standards have been adjusted by our award-winning Housekeeping team. For instance, we've put more emphasis on high-touch items like TV remotes, door and furniture handles, and control panels.
Our Venetian Clean Commitment continues to provide an industry-leading focus on health and wellness
Learn More
Meetings & Conventions
We have new cleaning measures in our Convention Center and Expo. Public spaces like restrooms, escalator rails, meeting rooms, and exhibit halls are part of that effort.
Hand sanitizing stations are placed in convenient areas throughout the resort.
Learn More

Read Review >>
"Excellent Hotel - Fantastic Experience"
Online reservation and online check-in was fast and easy. Very clean, spacious room with comfortable bed. Nice step down living room with desk. Free wifi. Great restaurants and wonderful shopping available.