In-Suite Dining
Treat yourself to an in-suite dining experience. Your server provides personalized service as they deliver your meal. It arrives in fine dining style on a white tablecloth. The Venetian Resort is one of the only destinations on the Strip that offers this elevated room service. With diverse cuisine and generous portion sizes, there is something for everyone to enjoy. Indulge in breakfast, lunch, dinner, and late night dishes, along with our wine list, 24 hours a day.
Best 24 hour Room Service
Our in-suite dining menu offers a global selection of cuisine. You can enjoy everything from Italian to Japanese, French, and more from the convenience of your suite. Indulge in decadent comfort food and healthy options both satisfy any cravings you may have. What makes this even better? You can order at any hour of the day, seven days a week. Our room service experience is a must do while staying at The Venetian Resort. You can always expect an incredible meal made in house with the highest quality ingredients.
Contact

Phone: 702.414.1177

In Room Ext: 41177
Contact

Phone: 702.414.1177

In Room Ext: 41177
Table Service
Our In-suite Dining menu at The Venetian Resort offers a global selection of cuisine at any hour of the day. We're one of the only destinations on the Strip to offer white tablecloth service. Your server prepares your table with place settings and presents your meal in a fine-dining fashion. This experience is perfect for an intimate evening in your suite away from the hustle and bustle of the casino.
Takeout Service
Enjoy the same award-winning cuisine from our In-suite Dining menu in a more casual way. Indulge in a range of options, from decadent comfort food to delicious vegetarian dishes and more. When you choose this expedited service, your meal will arrive in convenient to-go packaging, perfect for enjoying in your suite or taking with you.
Best Food and Beverage, Far West Region, Gold — The Stella Awards 2022
Let There Be Breakfast
The only way to start your day is with a breakfast spread from in-suite dining. Whether it's a savory American Breakfast or a sweet stuffed French Toast, pair it with a cup of coffee, and you're golden.
Lunch Hour is the Best Hour
Need a mid day pick me up? Come back and enjoy lunch in your suite. Share the Venetian Cobb salad or order a gourmet to go tray for a quick and easy option before you head out for more sightseeing.
Dinner is Where the Magic Happens
Skip reservations and have a fine dining experience in your suite. Choose from dishes like Ribeye and Salmon Filet. Love pasta? Try our orecchiette con gamberi e pomodori , it features shrimp, tomatoes, garlic, roasted peppers, capers, and olives tossed in extra virgin olive oil.
But First, Dessert
Our sweets are beautiful works of art that you can savor with every bite all day long. Are you a chocolate fan? The Chocolate Cake offers balanced decadence you must try.
Vegetarian and Vegan Food Options
You can enjoy the comforts of a vegan restaurant right in your suite. Choose from a variety of plant based options across the menu. Our Vegetarian Rice Bowl is a guest favorite.
Silver: Best Hotel Rooms/Suites — Best of Las Vegas 2019
Late-Night Bites
We have one of the most extensive Las Vegas room service menus on the Strip. Enjoy everything from Eggs Benedict to Chicken Pot Pie no matter your desire, there's a dish for it.
Kosher Food
We serve certified Glatt Kosher meals by Mon Cuisine™. Meals featuring Rib eye and Salmon are served in a vacuum sealed tray, ready for your enjoyment.
We're keeping your suite fully stocked for all your snack cravings. Salty, sweet—you name it, we have it. Have your pick of thirst-quenching beverages and assorted cocktails.
View Menu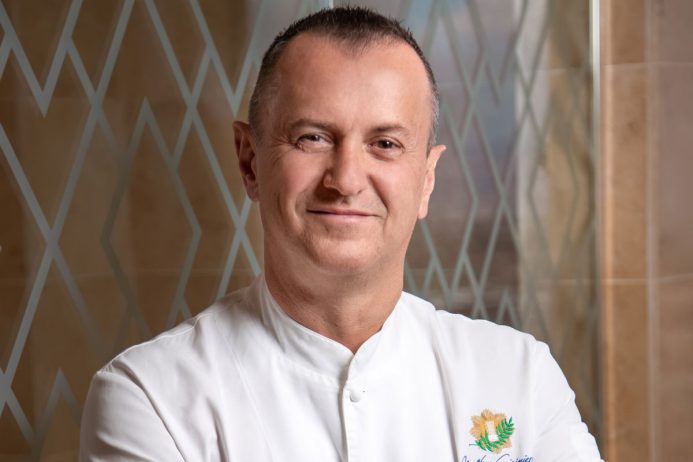 Meet the Chef
Chef Olivier Dubreuil graduated with honors from culinary school in France. In 2005, he was handpicked to lead a new team for The Venetian Resort. He is a member of the prestigious Maîtres Cuisiniers de France. In 2019, he became a Culinary Council Member of the Ment'or Foundation.