Planning to propose or newly engaged in Las Vegas? Capture the moment and announce it to the world. Here are the top five places for your ring selfie at The Venetian Resort.
01
Doge's Palace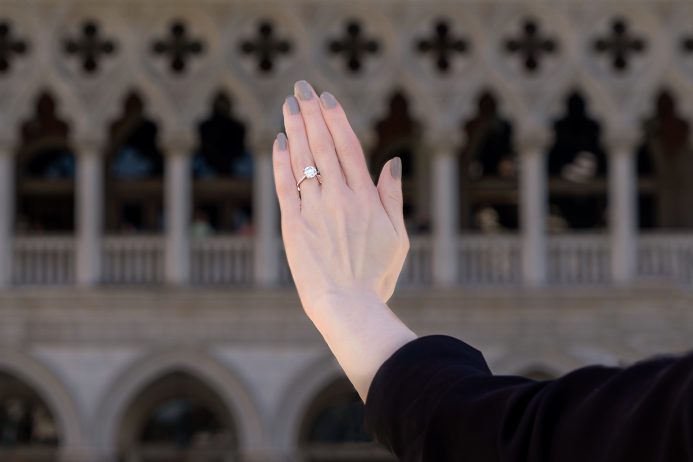 The Doge's Palace was designed to impress dignitaries visiting Venice. Recreating the palace in the front of The Venetian Resort was a huge feat. The detailed building offers an impressive setting for Las Vegas proposals. To get the best shot, position yourself in the middle of the bridge leading to the sidewalk. This spot creates a photo of your engagement with natural light and beautiful architecture as your backdrop. When you're looking for where to propose or show off your ring, the Doge's Palace is a great option.
02
Venezia Gardens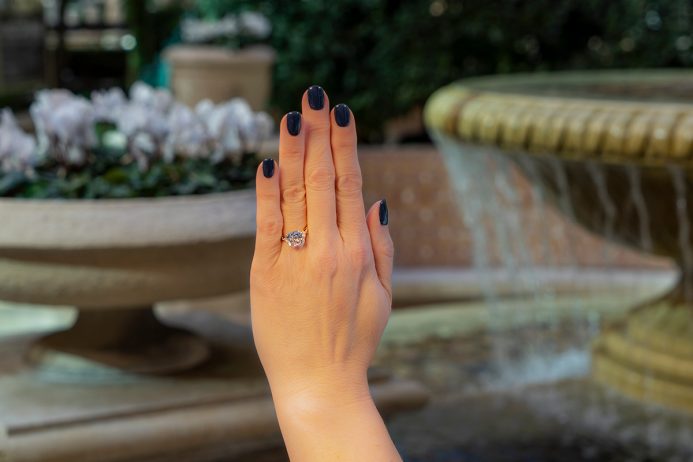 Want your proposal to be an intimate experience? Tucked away in the Venezia tower is one of the best kept secrets in Las Vegas. Lush greenery and refreshing pools transport you to a romantic oasis. Ivy covered arches and tranquil fountains set the stage for many creative proposal ideas. Start this new chapter in your lives surrounded by luxury. Snap a picture of your ring with vibrant leaves or the flowing waters of a fountain.
03
Indoor Grand Canal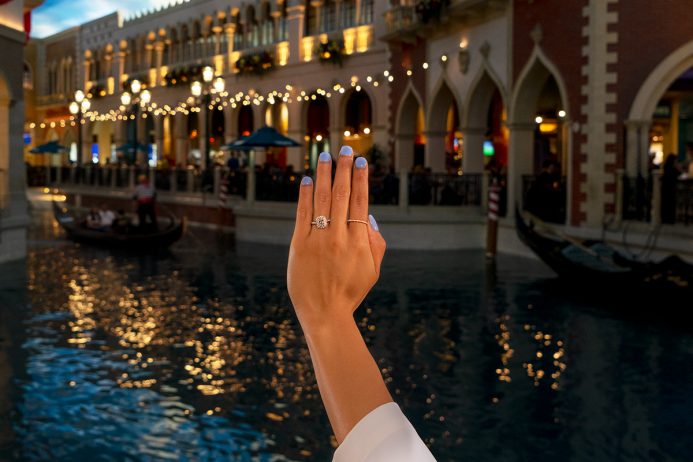 Named the most romantic thing to do in Las Vegas, our gondola rides are memorable proposal ideas, too. Float beneath bridges, beside cafes, all while enjoying a serenade from your gondolier. The best strategy for your gondola proposal is to book a private ride for two and talk to the staff ahead of time. Pop the question when the moment is right and snap a few selfies of the ring. It's that easy.
04
LOVE sign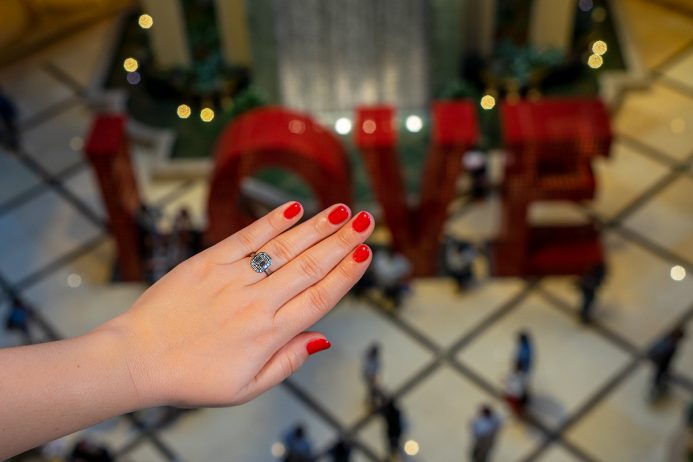 Creative proposal ideas are infinite here. If you're looking for bold declarations of love, look no further. Giant letters spelling out LOVE are perfectly placed in the Waterfall Atrium. The LOVE sculpture by Laura Kimpton is one of the best places to propose in the U.S. There are many options for capturing your special moment. Have a friend take a photo as you surprise your sweetie with the ring. Show off the new bling on their finger by using the bird-shaped cutouts in the sculpture for your background.
05
In-suite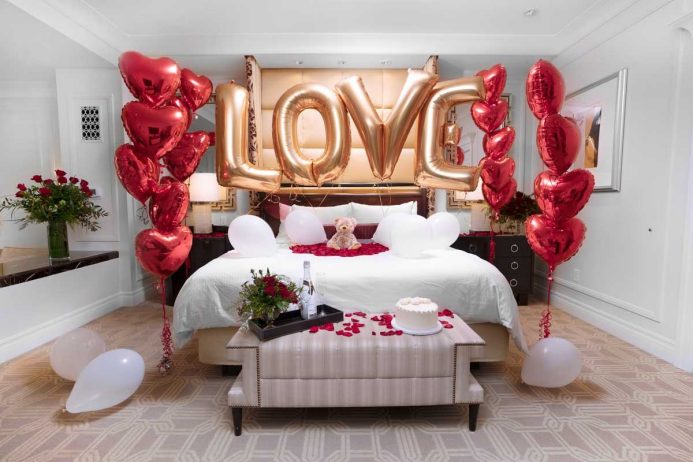 If you prefer a private setting for two, booking a suite experience is a wonderful choice. Our Floral shop offers a variety of memorable proposal ideas. Spell out "will you marry me" in rose petals on the bed. Fill the room with balloons and flickering candles to commemorate the moment. Another nice touch is adding a trail of rose petals and a Champagne toast. Use all the celebratory accessories and take a bunch of selfies. Place a ring-adorned hand on a pile of rose petals or use balloons as a backdrop; the possibilities are endless.
Need Help?
Contact our Celebrations Team at 866.548.1807 or email celebrations@venetianlasvegas.com; their complimentary planning service can assist you with all your Las Vegas proposal needs.