A Sustainable Path Forward
A Sustainable Path Forward
Our industry-leading sustainability program is the embodiment of our deep commitment to the planet.
Take Advantage of Green Meetings Leadership

We are heavily invested in eco-friendly operations in Las Vegas, including waste reduction, resource conservation, and the use of sustainable materials. All of our green programs and practices directly benefit our meeting customers. Here are just a few of our accomplishments:

100% of suite lighting leverages the latest LED technology

We run one of the largest rooftop solar-thermal systems in U.S.; it provides hot water for all swimming pools, spas, and a portion of the Palazzo tower

We have one of the highest recycling rates in Nevada

Our nano-water filtration system allows The Palazzo to stay off the water grid for all horticulture needs
A Sustained Track Record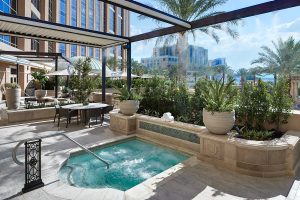 We have received many certifications and accolades for our sustainability initiatives. Among them:

Our buildings are among the largest LEED-certified properties in the world

Our meeting space was the first in the world to achieve APEX/ASTM advanced (Level 2) Green Venue certification

We were named top hospitality company in Newsweek's 2016 Green Rankings

We achieved a 100% score on the 2016 Dow Jones Sustainability Index
Partnering with Customers to Go Green
We can help our customers meet their individual sustainability goals, and have worked with many customers to pilot innovative Green Meetings practices.