The Quarantine is Over - Now Let's Celebrate You
Did you spend your birthday alone in your apartment because you were social distancing? Now that things are back to normal, it's time to celebrate your birthday properly. So grab your friends and head out to Vegas! The Venetian Resort is prepped and ready to throw you the ultimate birthday bash. Your day may have been a month or two ago, but it's never too late to celebrate you!
Your birthday dinner can't just be at a regular restaurant sitting at a regular table eating regular food. You deserve a special dining experience! So head to Yardbird and enjoy a chef-curated birthday meal in the private dining room. This is bound to be a birthday dinner you'll never forget!
Reserve the Private Room
Choose between Electra Cocktail Club, Rosina Cocktail Lounge, and The Dorsey Cocktail Bar to host your one-of-a-kind birthday celebration. Your bartender will create a "shareable" concoction for the whole group as well as a round of handcrafted cocktails customized just for you.
Book your celebration
Head to the tables for a round of Blackjack, or try your luck at Roulette. Whatever game you choose, you and your crew will feel the rush of excitement as you place your bets and stack up those chips.
View gaming options
If you hit a big birthday number last year, you deserve a bigger party. Book our Birthday Celebration package and get the party started! It starts with round-trip limousine service to and from Harry Reid International Airport. Get settled quickly with a Grand King suite for two nights*. Sip a Zodiac Cocktail based on your sign, plus a shot of your choice, at both The Dorsey Cocktail Club and Electra Cocktail Club. Wrap it up with Champagne toast (bartender's choice) at Rosina Cocktail Lounge.
*based on availability
Contact Us
05
Glide into a new year on a gondola ride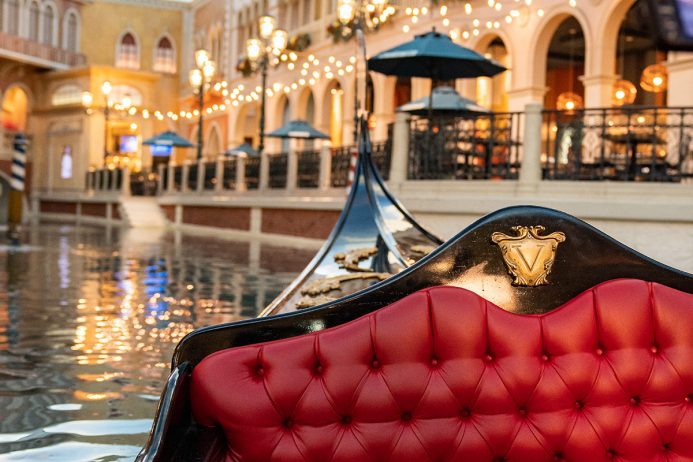 If last year's "happy birthday" song was a little out of tune, don't worry. We have people who can sing you the best birthday song you've ever heard. Step onto one of our beautiful gondolas for your birthday and hear something unique. Each gondolier is a trained vocalist. Each note they sing (in Italian) echoes off our frescoes and bridges. It's something you'll have to experience to appreciate. And you'll definitely appreciate it.