Are you an eco-conscious traveler? One important thing for you as you travel might be how is your place of stay eco-friendly. How are they making an effort to reduce their carbon footprint? At The Venetian Resort, we've been ahead of the curve for years to become one the largest green hotels on the planet. The global sustainability strategy was created to aid in this effort. It is designed to help minimize the impact they have on the environment. Below is a list of all the ways the properties are environmentally friendly hotels.
01
LEED Certified Hotel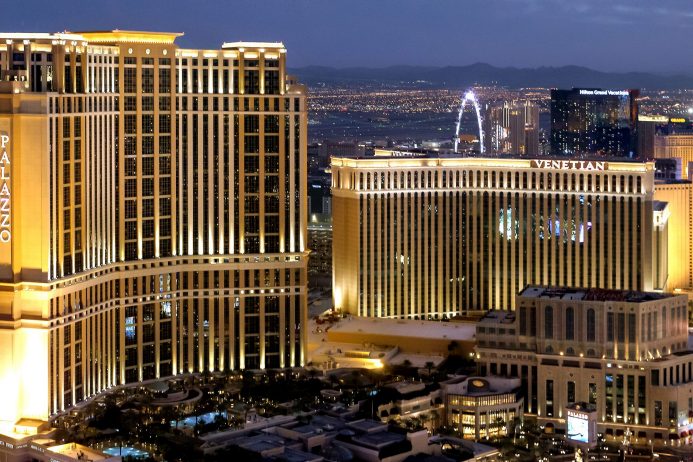 Qualifying to be LEED certified is based on 100-point scoring system. There are four levels of certification: certified, silver, gold, and platinum. There are seven different categories for a building to earn points. Sustainable sites, water efficiency, energy & atmosphere, materials & resources, indoor environmental quality, innovation in operations, and regional bonus points. In 2008, The Palazzo was the first Las Vegas resort property to achieve LEED Silver Certification. It was also the largest in the country. In 2010, The Venetian and The Venetian Expo were the only properties to receive LEED Gold Certification for existing buildings in Las Vegas.
02
Eco Luxury Hotel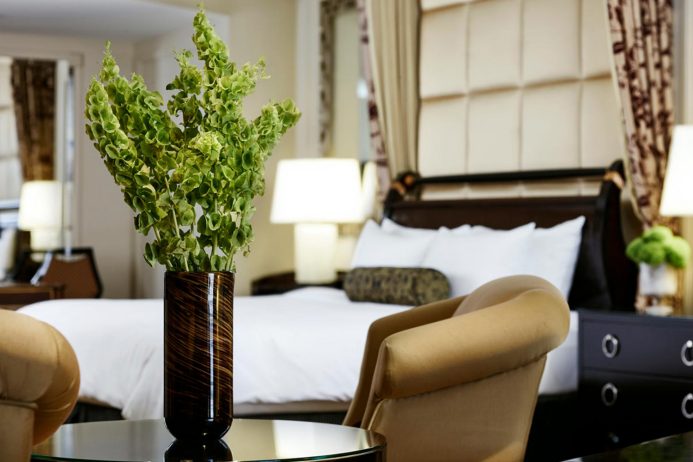 Every suite at The Venetian and The Palazzo is nearly double the size of the average Las Vegas hotel room. The latest energy-efficient LED lighting is utilized in all the suites. They saved more than 57 million watt hours of electricity from 2010 through 2016. That is enough to power more than 4,800 homes for a year. They have one of the largest roof-top solar-thermal systems in the country. This provides hot water for swimming pools, spas, and a portion of The Palazzo guest suites. When staying at The Venetian Resort, guests can relax knowing that every detail is taken into account.
Master light switches in The Palazzo guest suites to allow guests to turn off all lights at once to save energy
Energy Star® energy-efficient minibars and LED televisions
Green sustainable certified chemicals utilized for cleaning
Sustainable certified carpet and building materials
Sustainable certified products such as amenities, toilet paper, etc.
Sustainable housekeeping practices (such as turning off thermostats, closing drapes, etc.) followed to conserve energy, water, and recycle waste
Eco linen program – guests can opt to change out linen and towels after checkout unless requested 
EPA certified low flow plumbing fixtures (shower heads, toilets, faucets)
Over 24 electric car charging stations are available to guests for free
03
Water Conservation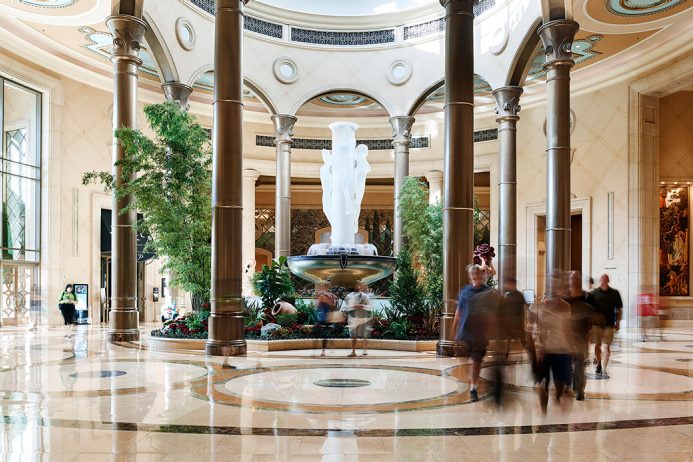 Being part of the prestigious LEED hotels is no small feat. It takes a team effort and continuous improvement through reevaluation. As one of the most sustainable hotels, they lead by example with their nano-filtration water technology. The filtration allows them to conserve 22 million gallons of water each year. That is the equivalent of 33 Olympic-size swimming pools. This non-potable water is used in landscaping, street cleaning, The Palazzo fountain, and a portion of the building's air conditioning. The system enables them to stay completely off the water grid for The Palazzo's irrigation.
04
Fighting Hunger in Southern Nevada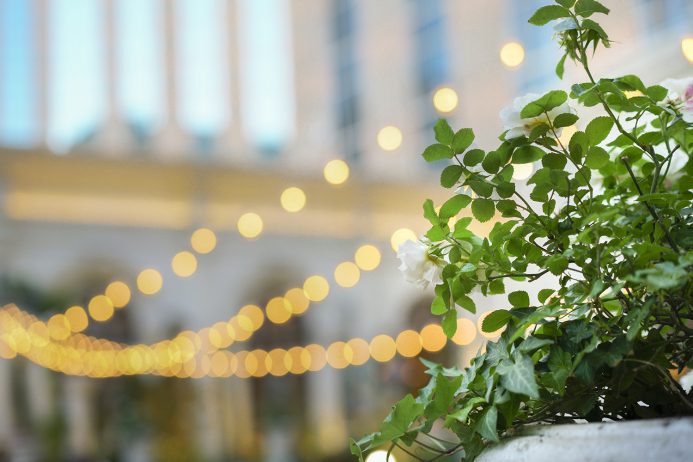 Communities going hungry is a concern across the nation. One in seven struggles with hunger in Southern Nevada. This lead to a partnership with Chefs to End Hunger. This is a regional non-profit organization that distributes leftover meals to local charities. The pick-ups were aligned with produce deliveries. Enabling the same refrigerated drop-off trucks to be refilled with food for donation. This prevented an empty return trip. In 2017, this creative program donated more than 17,500 meals.
05
Reducing Waste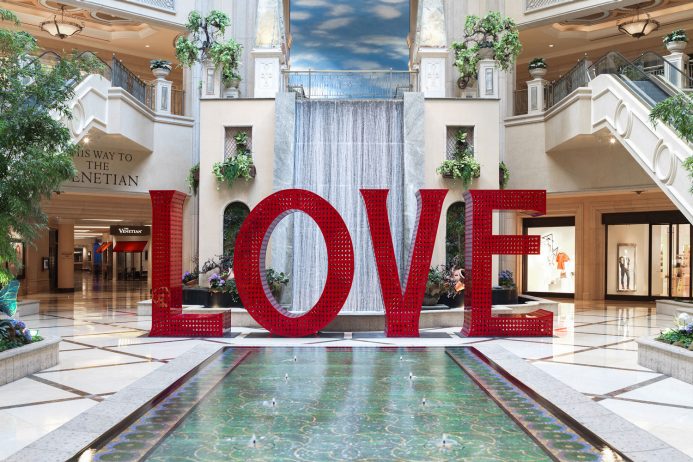 The eco-friendly resort has one of the highest recycling rates in Las Vegas. With more than 21% than the national average. Every year The Venetian reclaims more than 30 million pounds of material through their recycling program. That amounts to forty 747 aircrafts of waste, diverted from landfills. All of the food waste is converted into animal feedstock and donated to the local pig farm. Their Honest Food Program uses fresh and sustainable ingredients. This allows them to prepare all of their menus from scratch. By using seasonal and locally-sourced ingredients they avoid using frozen, canned, and processed foods.
06
Conserving Energy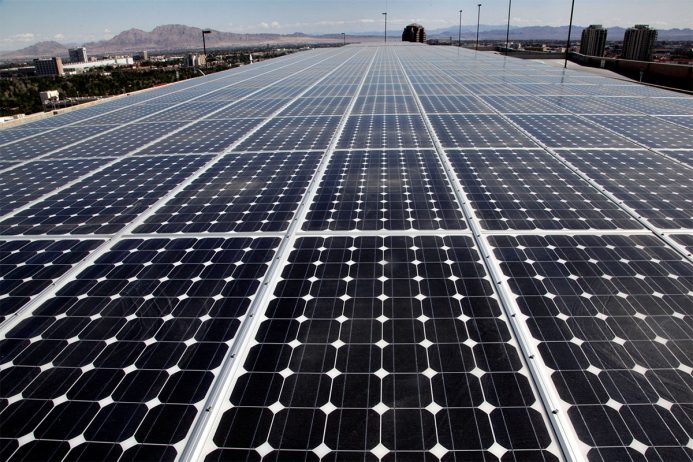 The Venetian Resort and The Venetian Expo have gone "all in" on renewable energy. Since May 2019, the resort has been in a partnership with NV Energy. Our partnership allowed us to offset our energy use. By investing in solar, wind, and other energy sources, we were able to purchase Renewable Energy Certificates. These certificates help track the energy we generate. Our entire Las Vegas campus is powered by 100% renewable energy. This adds up to about 225 million kilowatt-hours per year. That is enough to power 28,000 single-family houses. The U.S. Department of Energy recognized the resort for going beyond a 20% energy reduction goal in the Better Buildings Challenge. In 2019, the resort and The Venetian Expo were praised for a 24% reduction in energy use since the challenge began in 2011.
07
Better Buying Habits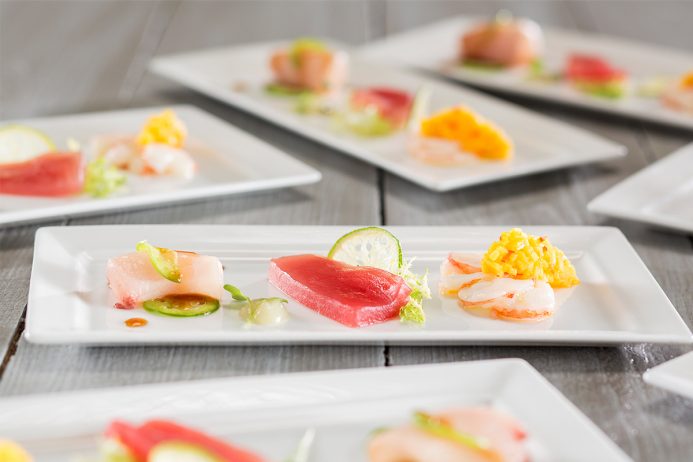 The Venetian Honest Food Program uses fresh and sustainable ingredients. This allows our chefs to prepare everything from scratch. By using seasonal and locally-sourced ingredients, they can avoid frozen, canned, and processed foods. We wanted to do even better. Targeting our seafood use, we wanted to find more "responsibly sourced" products. In June 2019, we started working with an organization called FishWise. With their help, we are sourcing even more sustainable seafood using their strict criteria. Our goal is to serve as a model for the industry. By completion, The Venetian Resort will offer the most extensive seafood sustainability choices on the Las Vegas Strip.