The Venetian Resort was born from love and celebrates the LGBTQIA+ community with open arms. We are champions of inclusivity and love for all, all year long. In June, we are proud to shine a light on the LGBTQIA+ community. In honor of Pride Month, guests will find an array of treats to discover at the resort. Savor colorful cakes to cocktails and special Pride-themed apparel.
In honor of Pride Month, Bouchon Bakery is bringing back its Rainbow Cake. Pastry chef Nicholas Bonamico created the dessert in honor of the Supreme Court's legalization of same-sex marriage. The dessert has seven layers of multicolored almond cake. Apricot and raspberry jams are alternately layered between each color. A rich dark chocolate glaze covers the top. What's the perfect finishing touch? Glimmering luster dust, of course. This labor of love is truly the most beautiful and delicious way to celebrate Pride. Available by the slice in the bakery or as full cakes with a pre-order. Make sure to stop by and celebrate with a piece of Pride.
Learn More
06
Pride Flag Tower Signs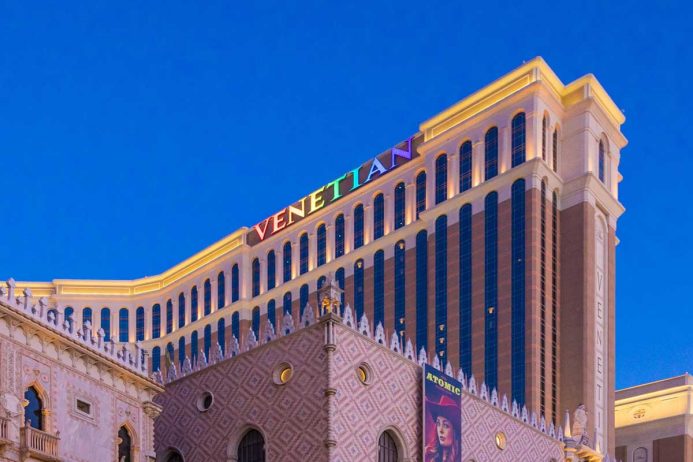 Loud and proud of our support of the LGBTQIA+ community, we wanted to give them the spotlight—literally. On June 1, we will display the colors of the Pride flag on our resort tower signs.
Dessert and rainbows—it's the only way to celebrate Pride Month. Carlo's Bakery has crafted six layers of colorful, delicious cake. Each layer is separated by a generous amount of vanilla icing. Rainbow sprinkles cover the entire outside of the cake for additional pops of color. The icing is also available in chocolate fudge and strawberry flavors. The Rainbow Cake is great for parties; buy it by the slice or as a whole 6" or 10" inch cake. Grab a slice to kick off Pride in the sweetest way.
Learn More
Artist Laura Kimpton created the sculpture as part of her Monumental Word Series. The installation, perforated with bird-shaped stamps, spells LOVE in steel ruby red letters. The structure rises 12 feet tall and collectively spans 36 feet across. "LOVE is about being free to love who you want, the way you want," said Kimpton, and it fits right in with the Italian passion The Venetian Resort embodies. Commemorate Pride with a photo in front of art that embodies love literally.
Learn More