Bachelorette Party Weekend in Las Vegas
Calling all bachelorettes, why dedicate one night to leaving your single life behind when you can celebrate the whole weekend? Contrary to popular belief, your nights in Vegas are the ones to remember.
Contact Us
For Reservations Assistance, please our Celebrations team at 866.548.1807 or celebrations@venetianlasvegas.com.
Contact us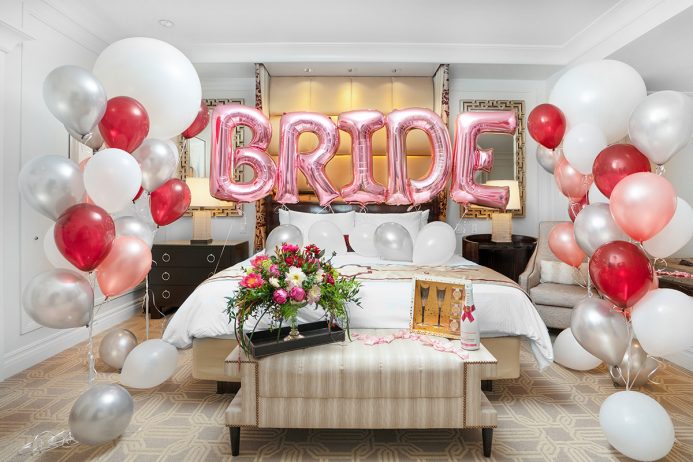 It is all about you!
Whether you'd like to go the traditional route with the bachelor and bachelorette partying separately, or combining both for an amazing co-ed soiree, your dedicated celebrations specialist can make it happen for you. Low-key or over-the-top, we've got you covered.
A luxe Italian oasis on the Las Vegas Strip - Forbes Four Star Winner.
Book Now
Special Limo Service
Arrive in style with a special roundtrip limousine service ready to pick up you and 4 guests to and from the airport.
Let's Upgrade You
Relax and unwind in a Terrace Suite upgrade for the man of the hour, for two nights.
Invited Guest Check-In
Enjoy the ease of check-in with an invited guest check-in to get the party started ASAP.
A Suite Surprise
Delight in an in-suite amenity to help commemorate your big day with balloons, flowers, or a sweet treat—from us to you!
The Full Glam
Your esthetician is in and your glam session begins at Canyon Ranch Spa. From the face to lashes, the bachelorette will be ready for the night's festivities.
Bachelorette Buddies
Dine in with your closest gals for a spectacular dinner at Buddy V's.
The Cocktail Collective Crawl
Hit all three spots at The Cocktail Collective for the ultimate bachelorette experience. Grab your girls and share a punch bowl at The Dorsey, cotton candy bubbly cocktails at Rosina Cocktail Lounge, and shared cocktails at Electra Cocktail Club.