16KSF Junior Ballrooms
The 16KSF Junior Ballrooms have sophisticated lighting controls and are fully-outfitted for audio-visual purposes.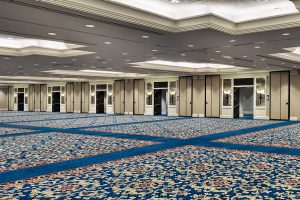 16KSF Junior Ballroom Stats
Space Type
Ballroom
Square Feet
16,554
Square Feet
16,554
people capacity per room layout
16KSF Junior Ballroom Details
The three 16KSF Junior Ballrooms are all located on Level 1. They are column-free and sub-dividable by airwalls into up to 12 smaller spaces.

Locations

Sub-Divisions

Each 16KSF Junior Ballroom may be sub-divided to create smaller rooms ranging in size from 1,193 square feet (one sub-division) to 14,242 square feet (sum of 12 sub-divisions).

Specs

Dimensions -- 79' 6" (W) x 207' 4" (L)

Ceiling Height -- 11" 4 3/4" (lowest point) to 13' 3 3/4" (highest point)

Power -- 100 AMP 3 phase

For more venues, view our selection of ballrooms in Las Vegas